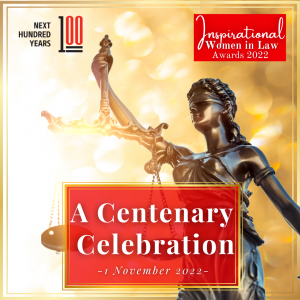 The Inspirational Women in Law
Awards 2022
'Our Inspirations in Law: A Centenary Celebration'
– 1 November 2022 –
We are delighted to introduce the Inspirational Women in Law Awards 2022: a special centenary edition of Spark21's annual awards celebrating Our Inspirations in Law. In their 7th edition, the 2022 Awards will be expanded to form part of Spark21's ongoing celebrations marking 100 years since the first women were admitted as barristers and solicitors in England & Wales in 1922. The celebration of the 2022 Winners will be framed by a celebration of the achievements of women in law over the past 100 years, promising a magical evening which celebrates some of the top legal talent.
What are the Inspirational Women in Law Awards?
The Inspirational Women in Law Awards seek to identify individuals from across the legal profession who are leading the way in improving equality and diversity. The awards recognise those who are both excelling in their
areas of practice and are working for the changes needed to ensure women working in the law are able to thrive.
The Awards have regularly drawn 200+ guests ranging from legal professionals to leading academics to future lawyers, as well as receiving coverage in the mainstream press, most recently with the article in The Times on Dame Linda Dobbs' acceptance of the 2021 Lifetime Achievement Award. The Awards are judged by a panel of experts from the industry, with shortlisted finalists being announced in late October and winners being announced at the Awards Ceremony in November.
Learn more about our 2021 Awards winner here.
How can I get involved?
Nominations for the 2022 Awards will open 22 July 2022. 
Nominations can be submitted for yourself or another individual via our Nomination Form. 
Visit our 2022 Nominations page for more information on nominations.
If you are a company interested in supporting this special centenary edition of the Awards, please do get in touch.
When is the Awards Ceremony, and can I come?
'Our Inspirations in Law: A Centenary Celebration' will be held on 1 November 2022.
Tickets will be released via Eventbrite in October, and are available to book by the general public.