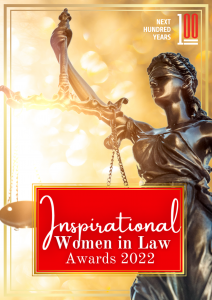 A Centenary Celebration of
Our Inspirations in Law
– 1st November 2022 –
Venue: Clifford Chance, London
Nominations for the 2022 Awards will open 22 July 2022. 
Visit our Nominations page for more information.
The Inspirational Women in Law Awards seek to identify individuals from across the legal profession who are leading the way in improving equality and diversity. The Awards recognise those who are both excelling in their areas of practice and are working for the changes needed to ensure women working in the law are able to thrive.
In their 7th edition, the 2022 Awards will be expanded to form part of Spark21's ongoing celebrations marking 100 years since the first women were admitted as barristers and solicitors in England & Wales in 1922.
This year, the celebration of the award winners will be framed by a celebration of the achievements of women in law over the past 100 years. With a panel discussion and key-note speeches delivered by leading women in the profession, as well as a sparkling drinks reception, a photography exhibition from the First 100 Years project and, of course, the Awards Presentation to the 2022 Winners, this Centenary Celebration of Our Inspirations in Law is not one to be missed!
Follow our social media to stay up-to-date with ticket releases for 'A Centenary Celebration of Our Inspirations in Law'. Tickets will be available to purchase on Eventbrite.