RT HON THE BARONESS HALE OF RICHMOND DBE PC LLD FBA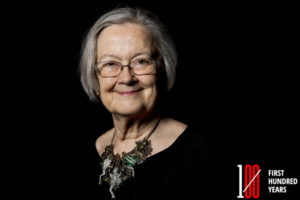 © Jamie Williamson for First 100 Year's #100Faces100Years in 2019.
Lady Hale has just retired as the United Kingdom's most senior judge. She was educated at Richmond High School for Girls in North Yorkshire and Girton College, Cambridge (where she is now Visitor) and was called to the Bar by Gray's Inn in 1969. She taught Law at Manchester University for 18 years, specialising in family and social welfare law, and also practised for a while at the Manchester Bar.
In 1984 she became the first woman to serve on the Law Commission, a statutory body which promotes the reform of the law. There she led the work which resulted (among others) in the Children Act 1989 and the Mental Capacity Act 2005. She was also a founder member of the Human Fertilisation and Embryology Authority and chair of its Code of Practice Committee from 1990 to 1994. In 1994, she was appointed a Judge of the Family Division of the High Court and promoted to the Court of Appeal of England and Wales in 1999. In 2004 she became the first, and sadly the only, woman 'Lord of Appeal in Ordinary' in the House of Lords, which was then the top court for the whole United Kingdom. In 2009, she transferred with the other 'Law Lords' to become a Justice of the newly established Supreme Court of the United Kingdom. She became Deputy President of the Court in 2013 and its President in 2017
Baroness Hale has always taken a great interest in equality law, speaking up for increasing diversity in the legal profession and in the judiciary, She is delighted to support the campaign for the next 100 years.